Juice Hot Filling Machine Pet Bottle Juice Concentrate Production Line
Product Detail
Product Tags
Hot filling juice production line has a capacity of 12,000 bottles per hour, based on 330mL heat-resistant bottles, hot pet bottle juice filling line include:
1. Water Treatment System
2. Juice Processing System
3. Automatic Bottle Unscrambler
4. Air Conveyor
5. Monoblock Juice Filling Machine
6. Flat Conveyor
7. Bottle Inverter Chain
8. Bottle Cooling System
9. PVC Shrink Sleeve Label Machine
10. Bottle Shrink Wrapping Machine.
Model NO.
KYGZ32/32/8
Filling Principle
Negative Pressure
Packaging
PET Bottle
Number of Washing Heads
32
Number of Filling Valve Heads
32
Number of Capping Heads
8
Bottle Diameter
D=60 ~ 97mm
Bottle Height
H=150 ~ 320mm
Capping Torque
0.6 ~ 2.8nm (Adjustable)
Installed Capacity of Main Engine
4.18kw
Compressed Air Consumption
0.8m3/Min (0.6MPa)
Water Consumption
About 1.5 ~ 2m3/H (0.2-0.25MPa) for Bottle Flushin
Overall Dimension
33800*2580*2850mm
Weight
7.5 Tons
Production Capacity
12000bph
● 1. Sunrise Juice hot filling machine PET bottle juice concentrate production line is mainly used for bottling juice, such as apple juice. mango juice, orange juice, and other fruit juice.
● 2. The full automatic fruit juice filling machine including washing and filling and capping part, all of the process is automatic.
● 3. It adopts hanging type conveying-bottle structure to make changing bottle model more convenient, faster and easier.
● 4. The Juice Filling Machine is used in production of non-soda drink of fruit juice, fruit wine, minerals and pure water packed in polyester bottles.
● 5. Washing, filling and capping are integrated in one Juice Filling Machine.
● 6. The whole Juice Filling Machine is controlled by PLC with touch-screen as the human-machine interface.
● 7. The amount of the drinks in the storage tank can be controlled automatically.
● 8. The filling and capping will be stopped automatically when bottles are cramped wrongly or when caps are not available, the machine can automatically stop.
● 9. The frequency changing technology is used to adjust the operation speed steplessly.
● 10. The production can be displayed digitally and can be adjusted conveniently.
| | | | |
| --- | --- | --- | --- |
| NO | ITEM | INDUSTRIAL STANDARD | INDEX |
| 1 | CLEAN RATE | 100% | 100% |
| 2 | FILLING LEVEL ERROR | ±4mm | ±3mm |
| 3 | BOTTLE DAMAGE RATE | ≤0.2% | ≤0.08% |
| 4 | CAP DAMAGE RATE | | ≤0.5% |
| 5 | LIQUID DAMAGE RATE | ≤0.5% | ≤0.3% |
| 6 | LIQUID RETURN FLOW | ≤10% | ≤5~8% |
| 7 | SCEW CAP TORQUE | 0.6~2.8N·m adjustable | ±15% |
| 8 | CAPPING QUALIFICATION | 99% | ≥99.5% |
This machine is mainly used for hot filling of juice, tea drinks and other energy drinks. Only need to replace a small number of parts, and can be applied to pure water, mineral water filling.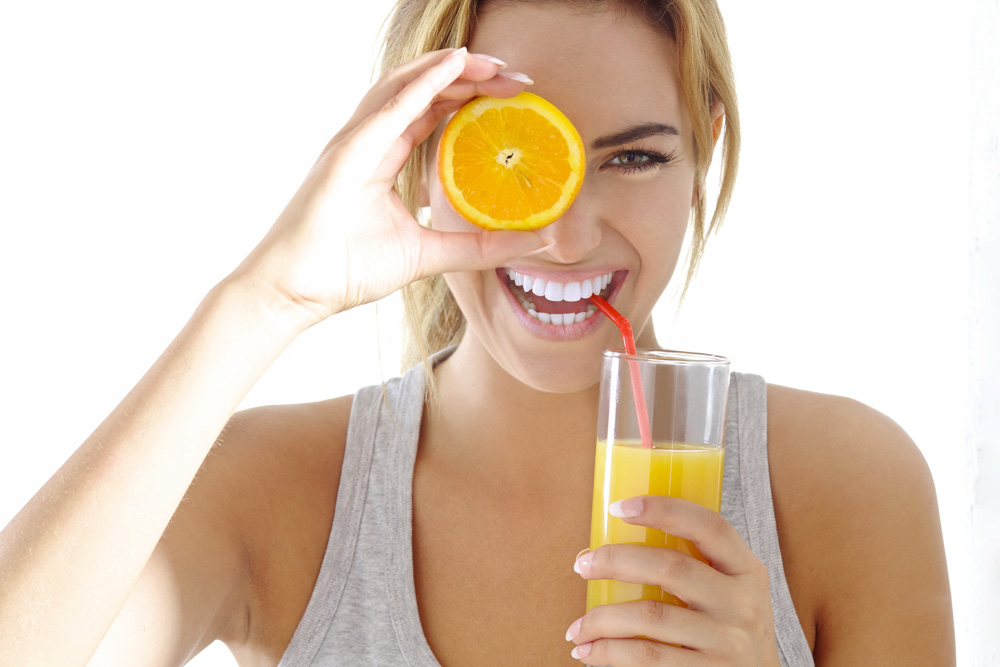 Washing Part
It adopts rotary design, which mainly used for washing empty bottles of juice and water etc. Then transfer the clean bottles into filling part.
PET bottles entrance to equipment by star wheel, the bottles clamped and reversed to make the bottle down. Washing with sterilizing water and drain well, then turn over the bottle up automatically. Main structure and washing part are made by stainless steel, simple structure and easy adjustable; Less contact with bottleneck, which can avoid secondary pollution effectively.
Filling Part
This Filling Machine is design by SUNRISE, Filling valve adopts negative filling way, filling fast and sensitive; the precision of filling liquid surface is high; There is no spring in valve, materials don't contact with the spring directly, which is good for cleaning valve. To make sure the filling process and filling temperature, when there is no bottle or closed down, the materials in valve is under micro back flow condition. Whole machine is controlled by PLC automatically.
Capping Part
This capping part uses magnetic torque type capping heads, automatic grasping cover, screw cap, immutability torque capping function.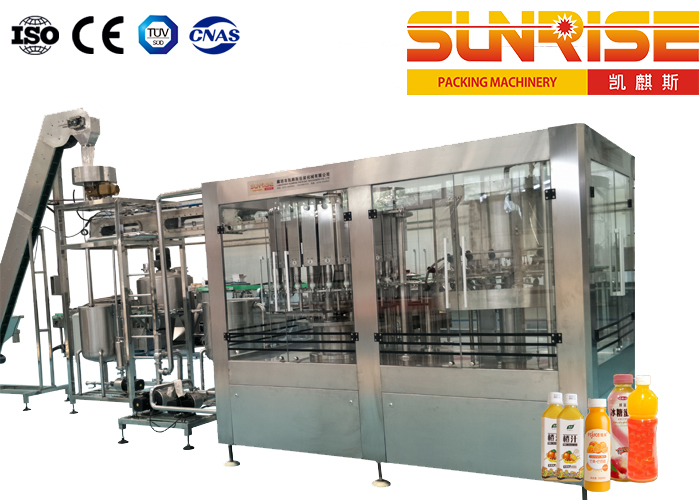 PET bottle fruit juice filling machine
PET bottle filling production line in 12000BPH orange juice filling production line

Q: Are you a factory or a trading company?
A: We are factory manufacturing packaging machines and we provide perfect OEM and after-sale service.
Q: How long the warranty will be?
A: We provide 12 months for the main parts of the machine and lifelong service for all the machineries.
Q: How to find sunrise machine?
A: Search Alibaba, Google, YouTube and find suppliers and manufacture and not traders. Visit exhibition in different countries. Send SUNRISE Machine an request and tell your basic inquiry. SUNRISE Machine sales manager will reply you in short time and add instant chatting tool.
Q: You are welcome to our factory at any time.
A: If we can fulfill your request and you interested in our products, you may pay a visit to SUNRISE factory site. The meaning of visiting supplier, because seeing is believing, SUNRISE with own manufacture and developed& research team, we can send you engineers and make sure your after sales service.
Q: How to guarantee your funds to be safe and delivery to be on time?
A: Through Alibaba letter guarantee service, it will ensure the on time delivery and the quality of the equipment you want to buy. By letter of credit, you can lock the delivery time easily. After the factory visit, You can ensure the facticity of our bank account.
Q: See SUNRISE machine how to ensure the quality!
A: In order to ensure the accuracy of each part, we are equipped with a variety of professional processing equipment and we have accumulated professional processing methods over the past years. Each component before assembly needs strictly control by inspecting personnel. Each assembly is in charged by a master who has working experience for more than 5 years. After all the equipment are completed, we will connect all the machines and run the full production line for at least 12 hours to ensure the stable running in customers' factory.
Q: The after-sale service of SUNRISE machine!
A: After finish the production, we will debug the production line, take photos, videos and send them to customers via mail or instant tools. After the commissioning, we will package the equipment by standard export package for shipment. According to the customer's request, we can arrange our engineers to customers' factory to do the installation and training. Engineers, sales managers and after-sales service manager will form an after-sales team, online and off line, to follow the customers' project.
---
---