Automatic 3 in 1water Juice Beverage Glass Bottle Filling Line Machine
Product Detail
Product Tags
Place and capping system, electromagnetic capping heads, with burden discharge function, make sure minimum bottle crash during capping. All 304/316 stainless steel construction.
No bottle no capping
Automatic stop when lack of bottle
Capping effect is stable and reliable, Defective rate ≤0.2%.
Model NO.
KYGHF08A
Warranty
12 Months
Packaging Material
Glass Bottle
Capacity
8000bph
Total Power
6kw
Outline Dimension
5800mm×3000mm×2780mm
Weight
9000kg
Height of The Bottle Feeding Distance Fr
1050±50mm
⚡ 1. Up to 12000BPH
⚡ 2. Has CIP system
⚡ 3. Adopt micro negative pressure filling principle
⚡ 4. Can add one more set of washing part to warm glass bottles or sterilize the glass bottles
| | |
| --- | --- |
| Item | Parameter |
| Applicable bottle type | glass bottle |
| Bottle diameter | φ50~106mm |
| Bottle height | 335±10mm |
| Filling type | High-level tank flow automatically, the negative pressure hot filling |
| Filling accuracy | ±5mm(liquid surface positioning) |
| Total water consumption | 0.3Mpa,2m³/h |
| Total air consumption | 0.8Mpa,0.1m³/min |
Main Structure and Characteristics
⚡ 1. Frame: 80×80mm high quality structural steel welded frame, the outer cover is 304 stainless steel protective layer, waterproof treatment, above the table can be washed at will.
⚡ 2. Outer seal: the whole is 10mm high strength toughened glass protective cover, good light transmission, easy to observe the operation of the equipment, fashion and beautiful.
⚡ 3. Transmission part: using metal gear and MC nylon gear meshing, greatly reduce the noise, smooth transmission.
⚡ 4. Bottle transmission: all the dials and guide plates of this machine are made of ultra-high molecular materials, which are durable and can effectively prevent glass scratches. The bottom of the whole bracket is 304 stainless steel, which greatly reduces the wear speed.
⚡ 5. Bottle flushing part: bottle flushing pump high temperature resistance; The nozzle adopts the solid conical nozzle imported from abroad, the injection Angle is 15°, twice flushing, flushing without dead Angle; Bottle flushing time is more than 2s, bottle draining time is more than 1.5s, not only to ensure thorough washing, but also to ensure that the residual amount in the bottle is up to standard.
⚡ 6. Filling part: CIP cleaning; Equipped with automatic switching valve, temperature sensor, when the material temperature is low, it won't fill, automatically switch to the reflux tank; Alarm when material temperature is high.
⚡ 7. Sealing part: the combination of pre- screwing cap and capping, greatly improve the sealing pass rate; The tighten belt prevents the bottle from slipping.
⚡ 8. Pipeline part: the machine integrates the internal pipelines, all the imports and exports are uniform, which is convenient for customers to connect on site.
Suitable for filling fruit juice, soy milk, walnut drinks, etc into glass bottles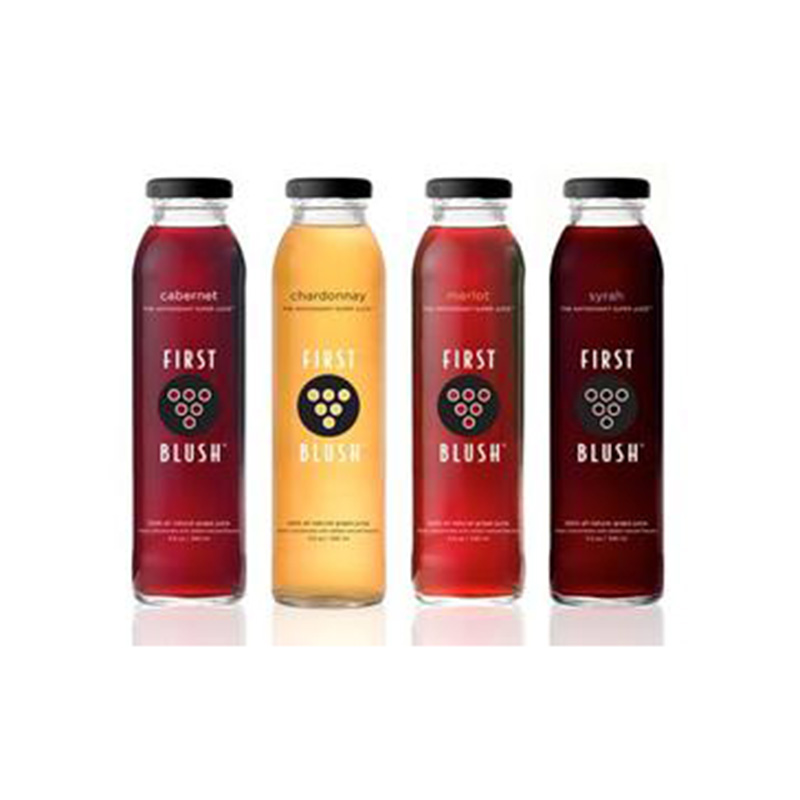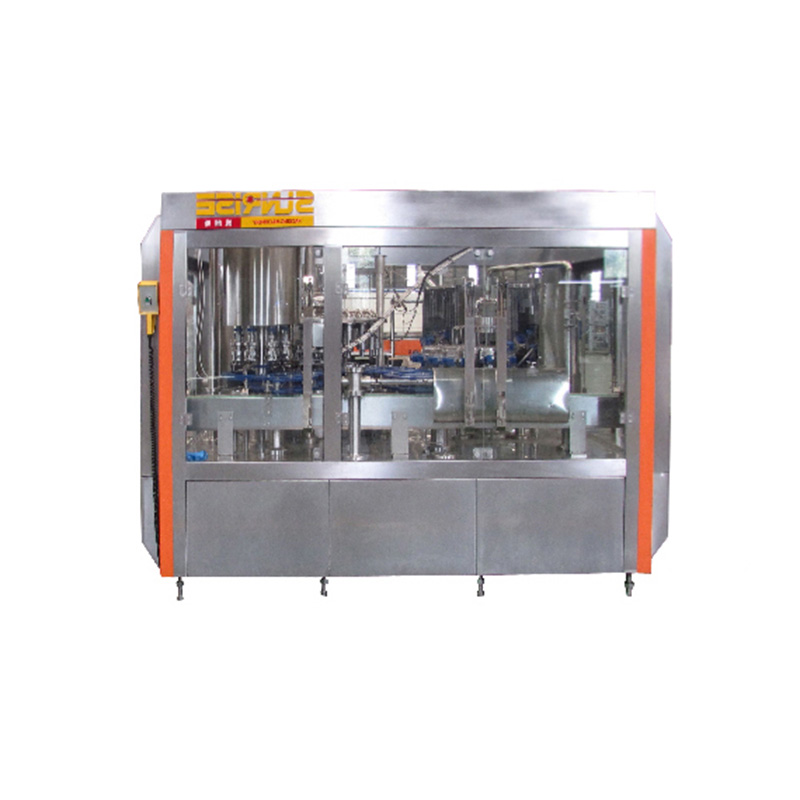 Glass bottle filling machine is the SUNRISE company to adapt to the development of the market by independent research and development of the top products with the improvement of people's consumption level and the upgrading of consumption concept, in the beverage market, high nutritional value, beautiful packaging high-grade products have gradually become the market favorite, and glass bottle packaging just to meet the latter.
1). Full filling to avoid the liquid level from sinking after the bottle cooling down, and to decrease the dissolved oxygen to the utmost extent.
2). Reasonable structured storage hopper and material supply system make the material in constant flow speed, constant pressure without frothing. Usually high position tank is adopted.
3). The storage hopper has the characteristic of gas discharge, full sealing and temperature detecting. In moderate and high speed production line, the material distributor replaces the big liquid tank to realize the complete CIP.
4). Sanitary filling head system is of umbrella structure, high filling speed.
5). Perfect filling temperature control system.
6). Reflux tank system has the function of supplying the material automatically.
7). Perfect CIP system.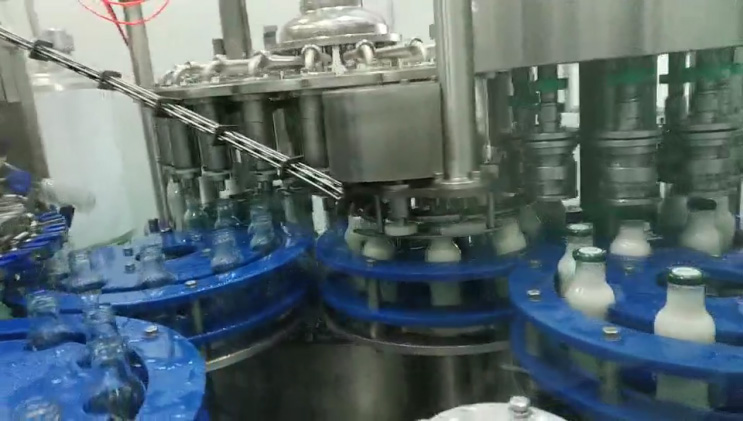 Glass bottle filling machine in walnut drinks filling production line
Glass bottle filling machine in 10000BPH glass bottle walnut drinks filling production line

Q: Are you a factory or a trading company?
A: We are factory manufacturing packaging machines and we provide perfect OEM and after-sale service.
Q: How long the warranty will be?
A: We provide 12 months for the main parts of the machine and lifelong service for all the machineries.
Q: How to find sunrise machine?
A: Search Alibaba, Google, YouTube and find suppliers and manufacture and not traders. Visit exhibition in different countries. Send SUNRISE Machine an request and tell your basic inquiry. SUNRISE Machine sales manager will reply you in short time and add instant chatting tool.
Q: You are welcome to our factory at any time.
A: If we can fulfill your request and you interested in our products, you may pay a visit to SUNRISE factory site. The meaning of visiting supplier, because seeing is believing, SUNRISE with own manufacture and developed& research team, we can send you engineers and make sure your after sales service.
Q: How to guarantee your funds to be safe and delivery to be on time?
A: Through Alibaba letter guarantee service, it will ensure the on time delivery and the quality of the equipment you want to buy. By letter of credit, you can lock the delivery time easily. After the factory visit, You can ensure the facticity of our bank account.
Q: See SUNRISE machine how to ensure the quality!
A: In order to ensure the accuracy of each part, we are equipped with a variety of professional processing equipment and we have accumulated professional processing methods over the past years. Each component before assembly needs strictly control by inspecting personnel. Each assembly is in charged by a master who has working experience for more than 5 years. After all the equipment are completed, we will connect all the machines and run the full production line for at least 12 hours to ensure the stable running in customers' factory.
Q: The after-sale service of SUNRISE machine!
A: After finish the production, we will debug the production line, take photos, videos and send them to customers via mail or instant tools. After the commissioning, we will package the equipment by standard export package for shipment. According to the customer's request, we can arrange our engineers to customers' factory to do the installation and training. Engineers, sales managers and after-sales service manager will form an after-sales team, online and off line, to follow the customers' project.
---
---