Labeling Inspection Machine for Pet Bottles Beverage Plant
Product Detail
Product Tags
Model NO.: TJBJGM
Type: Labeling inspector
Brand: T-Line
Customized: Yes
Transport Package: Wooden Case
Application: PET bottle juice drinks,water,tea drinks,energy drinks,milk drinks etc.
Label inspector,labeling inspection system,labeling detection machine,label detecting machine, label checker,vision inspection system,label tester,labeling testing machine,label checking machine,PET bottle production line,online testing system.
Introduction
The equipment is made up of detection unit, HMI, control unit and rejector, suitable for label detection of high speed PET bottled production line.
Detection function: no label detection,wrinkled label detection, crack label detection, joint label detection, misalignment label detection, high and low label detection and displacement label detection, etc.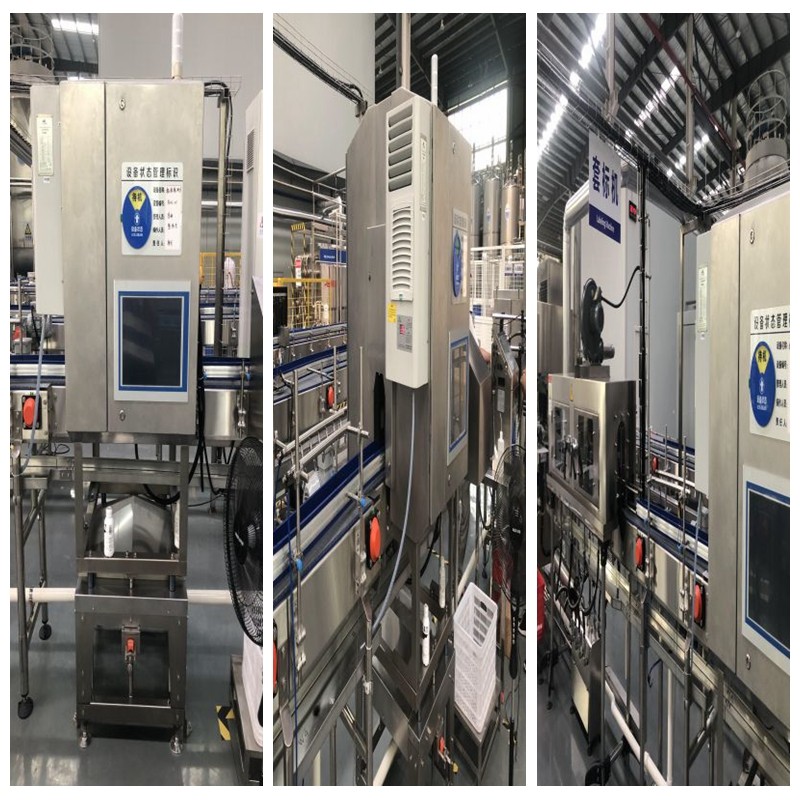 Technical parameters
| | |
| --- | --- |
| Dimension | (L*W*H)700*650*1928mm |
| Power | 0.5kw |
| Voltage | AC220V/single phase |
| Capacity | 1500 cans/minute |
| External air source | >0.5Mpa |
| External air source flow | >500L/min |
| External air source interface | Outside diameter φ10 air pipe |
| Air consumption of rejector | ≈0.01L/time(0.4Mpa) |
| Detection speed | Conveyor belt≤120m/min |
| Temperature | 0℃~45℃ |
| Humidity | 10%~80% |
| Altitude | <3000m |
The equipment adopts a professional image processing system, which can realize 360-degree all-round detection. The simple design of the bottle changing lifting mechanism can quickly adapt to various bottle types through simple manual adjustment. The compact inspection cabinet minimizes the equipment footprint. The detection operation status and fault conditions are displayed on the man-machine interface with pictures and texts. The detection unit can also be configured according to customer requirements.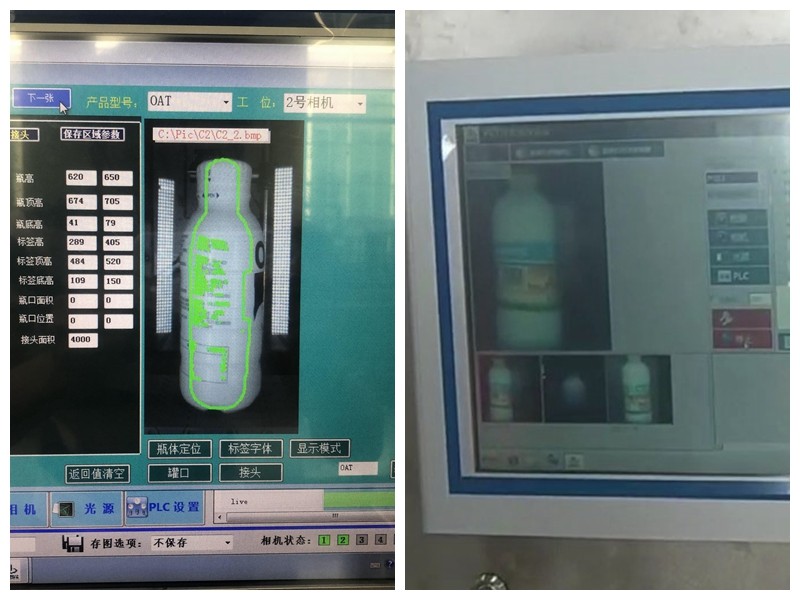 Technical parameter
| | |
| --- | --- |
| Dimension | 900*800*2600mm |
| Materials | SUS304 |
| Total power | 0.7KW |
| External power supply | AC220V/single phase |
| Power frequency | 50/60HZ |
| Speed | 1500 ph/min |
| External air source | 0.5Mpa |
| Air consumption | 0.01L/time |
Equipment features and layout
Light source: LED surface light source, with a life span of 30,000 hours, using the backlight illumination method, the edge contour of the object to be measured can be clearly outlined; in the image, the marked part is black, and the non-marked part is white, forming a "Black and white" images that are convenient for system analysis and processing.
Lens: Using manual aperture fixed focus lens, by adjusting the "focus adjustment ring" to make the image imaged on the CCD target surface the clearest, and by adjusting the "aperture adjustment ring", the brightness of the image is optimal.
Camera: The area array CCD analog camera is used, the resolution of the camera is 640*480 pixels, and the image acquisition speed can reach 80 frames/second.
Layout diagram: After the labeling machine, it is required to be on a single-segment chain path of more than 1500mm, the relative clearance of the bottle during the running process is more than 2cm, the relative jitters of the chain at the installation position is relatively small, and the guardrail is smooth
---
---