Printer Date-code Inspection Machine for Beverage Bottles
Product Detail
Product Tags
Model NO.: TJGDMJ15
Type: Coding inspector
Brand: T-Line
Customized: Yes
Transport Package: Wooden Case
Application: PET bottle body, bottle cap and the bottom of the can without spray code, spray code part missing, spray code blur quality defects
Coding inspection machine, coding inspector, date-code detection system, printer code detector, online code testing system, code reading inspection machine, package date-code verification system, PET bottle production line,can beverage production line, coding checking machine, code checker, code tester.
Introduction
Printing inspector is an intelligent guided vision system, detection speed is up to 1,500BPM, adopts non-contact on-line detection method, detection principle is based on intelligent visual technology, close to human judgment.
With intelligent learning tools and simple operation settings, anyone can master the settings and use them at the fastest speed. Operators only need to set qualified product parameters, the machine can automatically judge the defective products.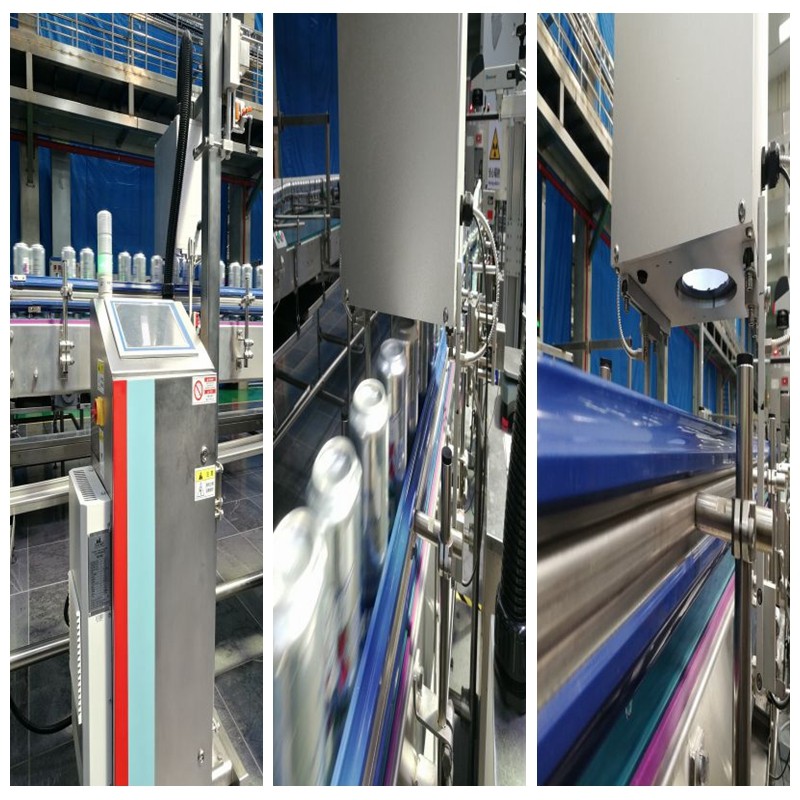 Technical parameters
| | |
| --- | --- |
| Dimension | (L*W*H)700*650*1928mm |
| Power | 0.5kw |
| Voltage | AC220V/single phase |
| Capacity | 1500 cans/minute |
| External air source | >0.5Mpa |
| External air source flow | >500L/min |
| External air source interface | Outside diameter φ10 air pipe |
| Air consumption of rejector | ≈0.01L/time(0.4Mpa) |
| Detection speed | Conveyor belt≤120m/min |
| Temperature | 0℃~45℃ |
| Humidity | 10%~80% |
| Altitude | <3000m |
Detection principle
The system is mainly composed of printing detection unit, HMI, rejecting device. The printing detection unit is a high-definition fast camera device. HMI consists of touch screen, tower lights and operation interface; The rejector, as the rejecting mechanism of the system, is used to shunt or reject the unqualified cans.
When the equipment is running, the tested product passes under the inspection machine, and the high-definition camera will quickly identify whether the inkjet code on the tested product is consistent with the correct pre-stored inkjet code, and then through software processing, it can judge whether the inkjet code is qualified, and then reject the unqualified products according to the judgment results. System can implement different functions according to the different detecting requirements.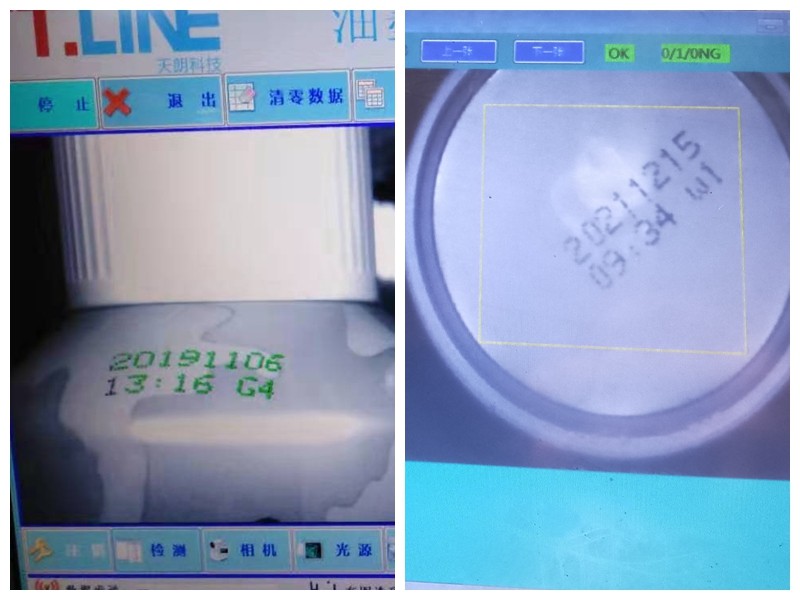 Detection range

The detection functions of the device are as follows. The product has no code, the inkjet code is not complete (missing 15%), the inkjet code character is shrunk into a ball, the inkjet code position is offset (part of the inkjet code is sprayed to the edge of the bottle), the date can be identified and so on.
Configuration instructions
1. Industrial camera: HD camera from Germany
2. Display screen: NODKA 15 inch screen
3. Lens: 8mm high resolution/low distortion of the lens
4. LED light source: special visual light sour
---
Previous:
Capping, Coding and Level Inspection
---