Automatic Rotary High Speed Hot Glue Adhesive Labeling Machine
Product Detail
Product Tags
Type: Labeller
Label:Rolled
Label material:BOPP,OPP,PVC
Brand: Sunrise Intelligent Equipment
Customized: Yes
Transport Package: Wooden Case
Application: PET bottles of fruit juice drinks, carbonated drinks, pure water and mineral water, etc
Labeling machine,labeling system,labeller,pasting sticker machine,trapping label machine,packing machine,packaging machine,packing system,packaging system,pure water production,juice drinking production line,tea drink production line,CSD production line.
Introduction
Automatic labeling machine is a device that can attach rolls of paper or foil labels to specified packaging containers or products. The back of the label comes with adhesive and is regularly arranged on the smooth bottom paper, and the label peeling mechanism on the labeling machine can automatically peel it off.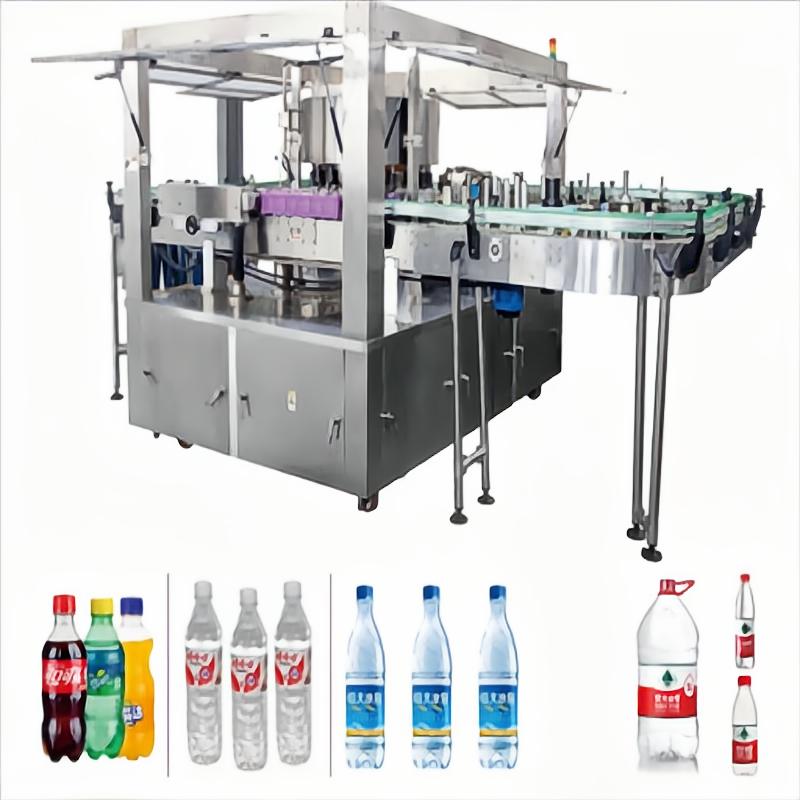 When the container reaches the electrical eye detection position, the computer host control label delivery system. When a bid delivery action is completed, the high-speed cutter cuts a label off the label.The cut label is sent to the adhesive system.When the coated label is transferred to the marking position, the label can accurately and effectively adhere to the container.Since the container is in a rotating state during the transfer of the label, the label can be smoothly and tightly attached to the container.The tape at the tail end of the glue can form a good label lap seal, completing a labeling process.
Characteristics
1. High speed head multi-space and multi-angle adjustment, enhance the scope of application of labeling machine, such as neck labeling, convenient adjustment.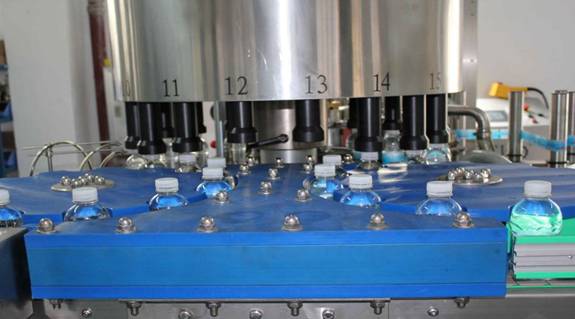 2. The adoption of double roller technology:
The first roller plays the role of sorting labels, reducing the impact of loose and wrinkled labels.
The second press roller plays a role in reducing the stress on the base paper and reducing the occurrence of interrupt marks in the high-speed production process.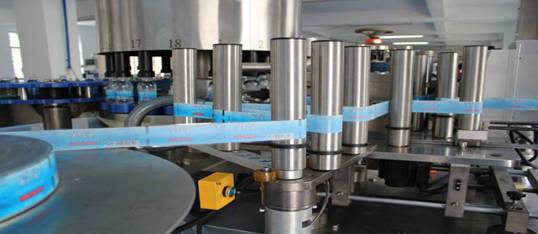 3. The label feeder adopts three-bar support, which is more advantageous than one-bar support in the same industry to ensure that the equipment is more stable in high-speed operation and effectively ensure the labeling accuracy.
4. Automatic oil filling system
The automatic lubrication interval time is adjusted on the touch screen, which has a good maintenance effect on the parts and prolongs the service life of the machine.

5.When the star wheel is stuck, the system will automatically alarm and stop, and manually rotate the star wheel will automatically reset.
6.Infinitely variable speed system
Adjust the output, just on the touch screen operation, conveyor belt, star wheel speed changes will change accordingly. No need to spend time and effort to adjust all parts.
7.Automatic lifting device for pressure bottle mechanism
The replacement of the bottle is different from the traditional manual machinery to adjust the pressure bottle mechanism, with higher precision and more labor saving.
8.The machine adopts folding safety door, saving space and convenient operation. All folding doors are made of toughened glass to ensure transparency and facilitate observation of any movement inside. Folding door with safety switch, work more effectively improve safety assurance.
| | |
| --- | --- |
| Power | 380V  50/60Hz |
| Capacity | 9000BPH-24000BPH |
| Label method | According to customer's requirements(single/double/positing/neck) |
| Maximum label height | 210 mm |
| Minimum label height | 15mm |
| Height of working face | 1050mm (according to customer requirements) |
| Label thickness | ≥0.035mm |
| Label core size | Internal diameter152.4mm;external diameter of 550mm |
| Maximum size of the paste | diameter ≤ 72mm (beyond the size range, need to discuss separately) |
| Labeling accuracy | ± 1mm |
| Precision | ± 0.3mm |
---
---